---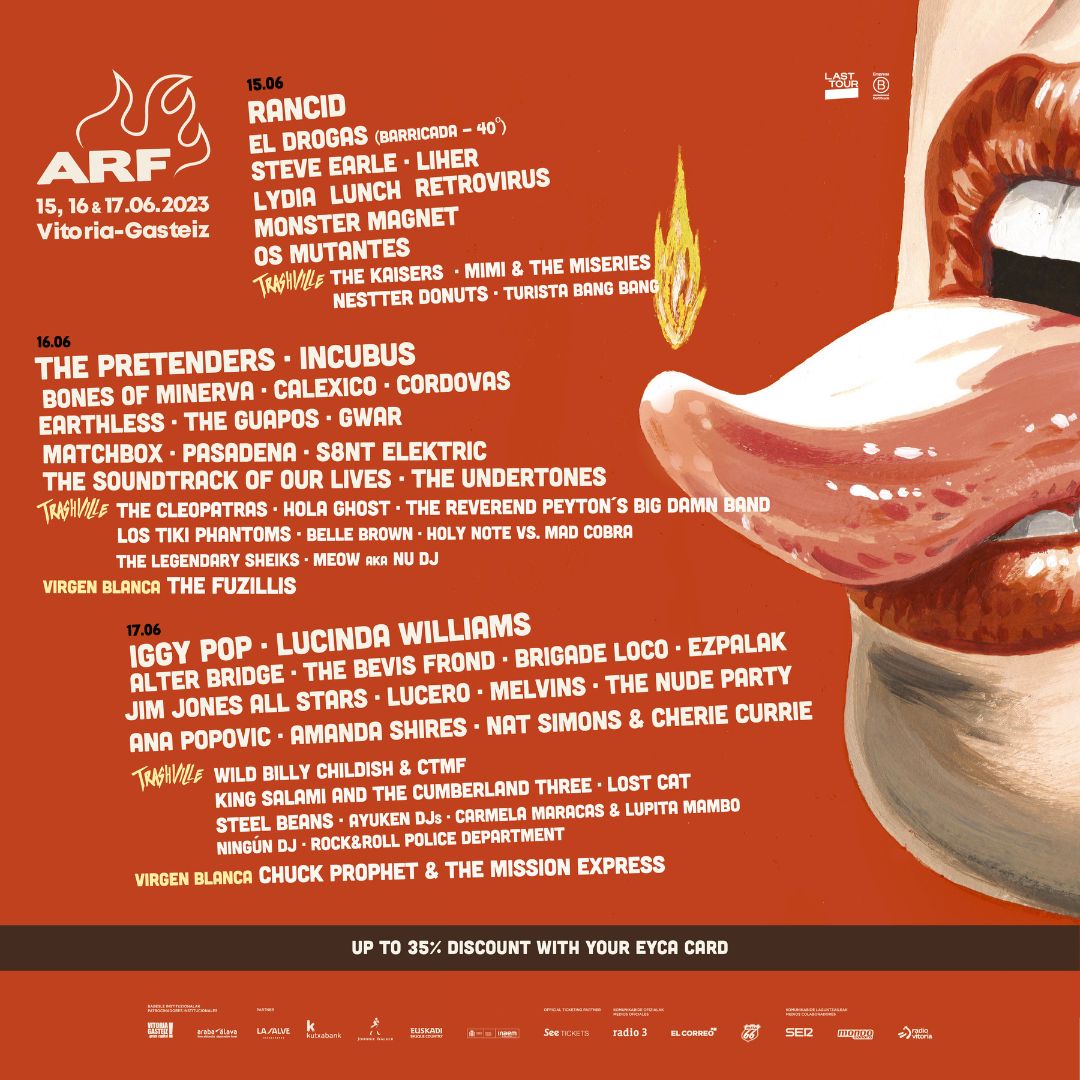 Azkena Rock Festival
35% discount on your tickets for Azkena Rock Festival 2023!
The rock 'n' roll festival with the greatest impact celebrates celebrates its 21st edition from 15 to 17 June in Vitoria-Gazteiz with Iggy Pop, The Pretenders, Rancid, Lucinda Williams, Incubus, El Drogas and many more bands. Azkena Rock Festival is once again positioning itself as a gourmet festival with an exquisite and eclectic musical selection that encompasses all aspects of rock 'n' roll. But good music is not the only ingredient of this weekend that attracts thousands of people from all corners, but the gastronomy offered by the city and the atmosphere in the streets of the Green Capital are also part of its attraction. Get a 35% discount on all festival tickets, using the discount code you can get on this website. Once you have obtained the code, you must enter it in the promotional code section of the ticket purchase website: https://www.azkenarockfestival.com/es/tickets-festival/ * Single-use discount. Valid for all types of season tickets or day tickets (you cannot buy 2 day tickets with the same code). ** It is essential that the person attending the festival is the holder of the European Youth Card and the organisation may ask for accreditation to confirm its validity. If the ticket has been purchased without being a European Youth Card holder, access will be denied and the tickets will be lost.
Ekainaren 15etik 17ra bitartean, Iggy Pop, The Pretenders, Rancid, Lucinda Williams, Incubus, El Drogas eta beste hainbat talde izango dira Gasteizko rock 'n' roll-aren jaialdian. Azkena Rock Festival gourmet jaialdi bat bezala kokatzen da aurten ere, rock-and-rollaren alderdi guztiak hartzen dituen musika aukeraketa bikain eta eklektikoarekin. Baina musika ona ez da asteburu honetan txoko guztietako milaka pertsona erakartzen dituen osagai bakarra, baizik eta hiriak eskaintzen duen gastronomia eta Gasteizko kaleetan arnasten den giroa ere bere erakargarritasunaren parte dira. Lortu % 35eko beherapena jaialdirako sarrera guztietan, webgune honetan lor dezakezun deskontu-kodearen bidez. Kodea lortu ondoren, sarrerak erosteko webgunean, promozio-kodearen atalean sartu beharko duzu: https://www.azkenarockfestival.com/es/tickets-festival/ * Erabilera bakarreko deskontua. Era guztietako abonamenduetarako edo eguneko sarreretarako balio du (ezin dira eguneko 2 sarrera erosi kode berarekin) ** Ezinbestekoa da jaialdira doan pertsona Europako Gazte-txartelaren titularra izatea, eta antolakuntzak egiaztapena eskatu ahal izango du haren indarraldia berresteko. Sarrera Europako Gazte-txartelaren txartelaren titular izan gabe erosi baduzu, sarrera ukatuko zaizu eta sarrerak/abonuak galduko dira. El festival de rock 'n' roll por excelencia, celebra su 21 edición del 15 al 17 de junio en Vitoria-Gazteiz con Iggy Pop, The Pretenders, Rancid, Lucinda Williams, Incubus, El Drogas y muchos más. Azkena Rock Festival se posiciona un año más como un festival gourmet con una selección musical exquisita y ecléctica que abarca todas las vertientes del rock 'n' roll. Pero la buena música no es el único ingrediente de este fin de semana que atrae a miles de personas de todos los rincones, sino que la gastronomía que ofrece la ciudad y el ambiente que se respira en las calles de la Green Capital también son parte de su atractivo. Consigue un 35 % de descuento en todas las entradas al festival, a través del código descuento que puedes conseguir en esta web. Una vez obtenido el código, deberás introducirlo en el apartado de código promocional de la web de compra de entradas: https://www.azkenarockfestival.com/es/tickets-festival/ * Descuento de un solo uso. Válido para todo tipo de abonos o entradas de día (no se pueden adquirir 2 entradas de día con el mismo código) ** Es imprescindible que la persona que acuda al festival sea titular del Carné Joven Europeo y la organización podrá pedir acreditación para confirmar su vigencia. Si se ha adquirido la entrada sin ser titular del Carnet Joven Europeo, le será denegado el acceso y se perderán las entradas/abonos.